We decided to catch up with alumni after they completed their NRCA programs to see what they are up to now. Today, we are chatting with Hannah Curran (NRCA class of 2016), who is a sophomore studying Environmental Science at UConn.

(Left) Hannah presents her independent community project at the Connecticut Conference on Natural Resources in March, 2017. (Right) Hannah and her mom enjoying one of their favorite activities, hiking, in November, 2017!
Read more about Hannah's experiences with the NRCA below:
Why were you interested in participating in the NRCA?
Hannah: I was interested in NRCA for a few reasons. First, a student in my high school participated the year before me, and after hearing his positive experience, I pursued the program. Also, I have always been very interested in and concerned for the environment. I wanted experience outside the classroom, since my high school did not usually provide those kinds of learning environments. My AP Environmental Science teacher, after seeing my interest in his class and knowing about the program, encouraged me to pursue it.
What did you do for your conservation project and who was your community partner?
Hannah: My community partner was again my AP Environmental Science teacher, who propagated a native wildflower meadow himself behind the high school, reclaiming mowed lawn. For my conservation project, I assessed the biodiversity in the native wildflower meadow, a mowed lawn adjacent to the meadow, and a fallow meadow down the road. We investigated if species richness and abundance of plants corresponded to the species richness and abundance of the insects in the same area.
What was the most memorable part of the NRCA, and why?
Hannah: The most memorable part of the NRCA was working on the community project. My teacher and I were able to pull in students to get them involved. Not only was the experience enriching my educational career, but others' as well. My AP Environmental Science class helped collect insects in the native meadow for one class, as my own experiment doubled as lab experience for them. Additionally, my Zoology & Evolutionary Biology class assisted in identifying and counting the insects. The students received hands-on experience with the scientific method while learning the importance of conservation biology. I also received the help from two girls who were sophomores at the time, and I remember that they were incredibly interested in the process of experimentation and data collection. It was the first time I was able to see the impact that one project had in bringing people together over a common task. It was a powerful moment, to realize you can teach others while improving your community.
Which aspect of your NRCA experience or project are you most proud of, and why?
Hannah: I am most proud of the experiment and data collection that I accomplished during the field experience. My teacher and I set out with big goals – to collect and identify the insects to family. However, we quickly realized that, even for a professional, this was no easy task. Cutting back the level to which I identified the insects was disappointing at first. I thought that my results would be compromised, and it was not what we originally set out to do. However, collecting and identifying the insects was incredibly tedious, time-consuming, and difficult even after we scaled back. It took hours of careful examination and sorting (and we completed the whole process twice). Completing the identification was definitely the hardest, but most rewarding, part of my NRCA experience.
Why did you choose to study your major at UConn?
Hannah: I chose an environmental science major at UConn because it is somewhat like an umbrella. There are many specific topics to specialize in beneath the field of environmental science. However, the earth system is not an isolated place. All factors – social, economic, physical – are interacting all the time, everywhere. I wanted to major in a field that would allow me to see the entirety of the environment and all the outlying fields that interact with it. Being an environmental science major allows me to take classes such as Agriculture and Resource Economics and literature courses, all of which influence our interactions with the environment in some way. Environmental science is a field that should be approached from many subjects and perspectives to solve our problems, and through this major I am allowed to do that.
What advice would you give to a student considering applying to an NRCA program?
Hannah: Apply! There is never harm in trying. The only harm that comes is from not trying. Going into the NRCA program, I didn't know much about any of the topics we would be learning about, and I didn't know if I wanted to pursue environmental science. NRCA allows you to experience these fields before you have to decide whether or not you might pursue further education in them. It is great if you find a field you like, but I think it is even more beneficial to find a topic you don't. It only brings your closer to finding the subject you are truly passionate about, whether it be water, soil, or GIS. Personally, during NRCA, I learned my passion lies in wildlife and biodiversity!
If you could describe your NRCA experience in 3 words, what would they be?
Hannah: My three words to describe my NRCA experience would be "Saving the world!"
Take a look at Hannah's independent community project, linked below: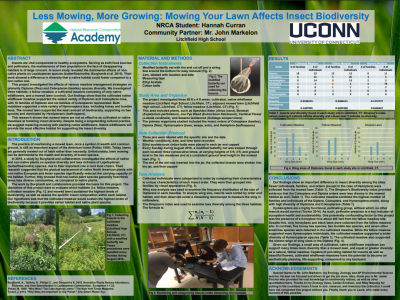 Thank you, Hannah, for contributing a blog! If you have participated in an NRCA program and would like to contribute a blog about your experience, email us at nrca@uconn.edu. 
---