We decided to catch up with alumni after they completed their NRCA programs to see what they are up to now. Today, we are chatting with Ricky Moore (NRCA class of 2014), who is a sophomore studying Natural Resources, with a concentration in Fisheries and Wildlife, at UConn.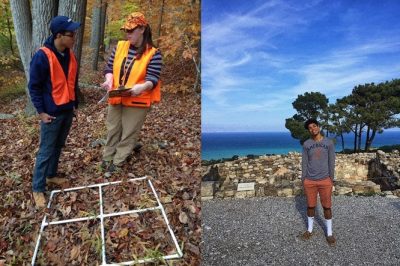 (Left) Ricky works on his independent community project in 2014, which he presented at the Connecticut Conference on Natural Resources in March, 2015. (Right) Ricky on a UConn Study Abroad experience in Greece in January, 2018.
Read more about Ricky's experiences with the NRCA below:
Why were you interested in participating in the NRCA?
Ricky: I was interested in participating in the Natural Resources Conservation Academy because I have always had a passion for all things involving natural resources and the environment, since before I could remember. I grew up going to upstate Vermont at least 4 times a year. My great aunt and uncle had a cabin on 35 acres with 3 ponds, a greenhouse, and a lot of hiking trails. I used to go out a lot just on walks to explore countryside and was always, so intrigued by the foliage and wildlife. I used to go out on a lot of hunts with my uncles, however we never really caught anything, which is probably because I blabbered the entire time. We used to always go fishing too and I would always end up with some type of fish on my hook, however getting on dry land was always the real issue. My most memorable fishing trip was a cold, rainy day when my uncle took me out to the farthest pond on the property to catch the legendary Sharky, the biggest trout in the pond. We were out for 3 hours that day and I managed to hook him, but he ended up breaking the line because he was so big. So, with all this said you can see how Vermont is my biggest drive for my love for the environment. It's what brought me to join my vocational agriculture program at my high school and put my curriculum focus on Natural Resources. It's here where I met Laura Cisneros, the program coordinator, and where she introduced me to the program. When I saw how I could further my passion through the program there was no question in mind that I was going to join.
What did you do for your conservation project and who was your community partner?
Ricky: The purpose of my project was to inform the community on how management of invasive species is beneficial to maintain a healthy ecosystem. The project documented the distribution of native and invasive plant species within a 50-acre parcel of Cockaponset State Forest in Middletown, Connecticut in order to see what species were predominant in an area that had/ had not been managed. We mapped out patches of the invasive plant species using ArcGIS to provide baseline survey data of the property for the Department of Energy and Environmental Protection (DEEP) to further plan invasive plant management practices, while understanding if prior management practices (mowing and planting native species) were successful. The study was attempted to be furthered by live trapping small mammals to get an inventory their community and better understand how they may be affecting seed dispersal. My community partner was DEEP Wildlife Biologist, Ann Kilpatrick, who provided her knowledge and resources that made the project possible. DEEP Wildlife Resource Assistant, Jessica Bristol, also dedicated a lot of time and effort in assisting me in the project just.
 What was the most memorable part of the NRCA, and why?
Ricky: The most memorable part of NRCA had to be when I went sanding for fish in the Fenton River with Dr. Jason Vokoun. This was so intriguing to me because I would later perform this fishing technique at my job at Marine Bait Wholesale. In the setting, we were placed in at NRCA, we went along the Fenton River sanding for the vast array of fish species in the river and caught a wide variety, including sucker fish, a lot of trout and some bass. I especially was fascinated by the electrofishing they did because I thought it was really cool when the fish floated to the top presumably dead, however when you put them in the bucket they were completely unharmed and were full of life. I loved doing the measurements on the fish and identifying the types of species in the ecosystem. When I performed the sanding for killifish at Marine Bait Wholesale for the first time, my boss was so shocked at how much I knew about the technique. This really helped him out due to the environment we were in and really made his job easier because he didn't have to worry about me.
Which aspect of your NRCA experience or project are you most proud of, and why?
Ricky: The aspect of my NRCA experience that I am most proud of is the relationships I made while I was there. I made lifelong friends while I was in the program and some of the participants I still talk to this day. It's just such a bonding experience being at a university with the same people for a whole week being involved in an area of study that you all are so passionate about. Also, the professor and faculty I met while I was in the program, I am still in contact with today. If it wasn't for the program I probably wouldn't have my current job in the Natural Resources and the Environment office as student administrative assistant running the department social media accounts.
Why did you choose to study your major at UConn?
Ricky: I chose to study my major because I want to protect the environment that we rely so heavily on. There are a lot of problems going on in the world involving habitat loss, pollution, species endangerment and I want to make a difference in fixing some of these problems. I came into the university as a Natural Resources major, but now I have a focus in environmental engineering and I would like to make a difference in the regulation aspect of it. I want to solve problems and advice companies/government agencies on ways they can have as little environmental impact in their practices, while creating new and innovative ways to protect the environment.
What advice would you give to a student considering applying to an NRCA program?
Ricky: I would advise any student that is on the fence about joining NRCA to just do it, no matter what. I mean even though I always knew I was interested in all topics related to natural resources and the environment, I also met people that weren't even sure if they liked it. When going to NRCA they got a whole different perspective on what the field entailed and genuinely enjoyed all aspects of the program. Also, it's not just the learning aspect of the program, the friends you make while being there is another very important aspect of the program. You make so many friends that will probably end up being there your whole life. NRCA was such an important chapter in my life and I wouldn't change it for anything. I'm so happy I got the opportunity to be involved and am extremely grateful to the faculty and staff that dedicated their time to ensure the program's success!
If you could describe your NRCA experience in 3 words, what would they be?
Ricky: NRCA Ninjas Bloopers
Take a look at Ricky's independent community project, linked below: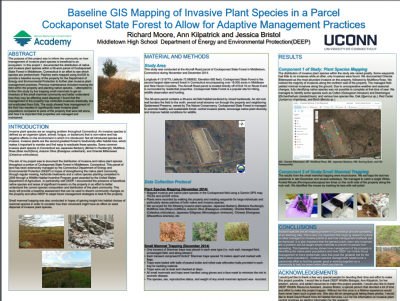 Thank you, Ricky, for contributing a blog! If you have participated in an NRCA program and would like to contribute a blog about your experience, email us at nrca@uconn.edu. 
---