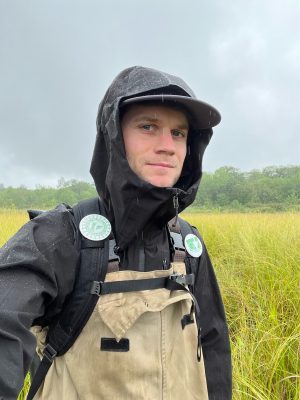 Hello! My name is Christopher Cane, and I am a graduate student mentor and research assistant with the NRCA Conservation Ambassador Program and NRCA Difference Mentor Maker Program. I'm currently a master's student studying Human Dimensions of Natural Resources and the Environment at the University of Connecticut. As an undergraduate student, I double majored in environmental anthropology and studio art at the University of Massachusetts, Boston. 
While at Umass, I had the privilege of collaboratively planning a service learning trip to Plenitud ecological farm in Las Marias, Puerto Rico, where I traveled with other students to volunteer by harvesting and making anti-inflammatory turmeric salves to bring to local elders to relieve arthritis, among other things. I worked at the university Visual Resources Archive to digitize and archive the ethno-botany photo collections of the late Dr. Lawrence and Lucy Kaplan from Chiapas and Oaxaca, Mexico, and I was fortunate to meet Dr. Kaplan before he passed away in 2018. I still quote botany facts that I learned from him in my environmental education lessons. Participating in a year-long honors capstone course in International Epidemiology was also integral to the formation of my worldview. The course included a winter semester case study in Cape Town, South Africa, where we met with local community leaders to witness the impacts of apartheid, as well as the resistance movements that we had been learning about.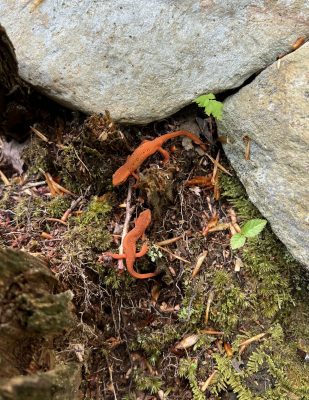 After completing my bachelors degrees, I served as a FoodCorps service member with Green Village Initiative in Bridgeport, Connecticut for two years. While with Green Village Initiative, I coordinated a school garden advisory committee of public school teachers, public health researchers, a local chef, non-profit leaders, and district subject area leads. During the first year, I worked with 125 6th grade students, the Cesar Batalla School community, Green Village Initiative, and Home Depot to redesign and rebuild their school garden. During my second year, I committed much of my time with several key teachers to build capacity and investment in caring for the garden and utilizing it as an outdoor learning space. For the last three years I have had the pleasure of working as an environmental educator for Common Ground High School and New Haven Ecology Project. It was distinctly special opportunity to learn outdoors in West Rock State Park with students aged six to eighteen.
In my free time, I have an endless list of hobbies to keep me busy. I'm currently building a bookshelf from the salvaged wood of an Eastern black walnut tree that was felled in my home-town of Westbrook, CT. I enjoy gardening, fermenting kombucha and cider, and cultivating edible mushrooms. I like to cook for my five housemates, sit around a fire with friends and family, and go on hikes and adventures with my partner. 
As a research assistant with the NRCA, I am interested in social and ecological relationships, with concern in particular for collective decision-making about the environment and natural resources. I'm curious what factors lead to sustained community environmental stewardship. I believe that we'll be able to learn more about this by better understanding the ways people collaborate to carry out environmental action projects with the NRCA Conservation Ambassador Program.
NRCA's Conservation Ambassador Program (CAP) and NRCA's Difference Maker Mentors (DMM) program are currently supported by a generous 5-year donation from the original private family foundation and from a grant (WAMS-2021-38503-34817) from the USDA Women & Minorities in STEM Fields.
---