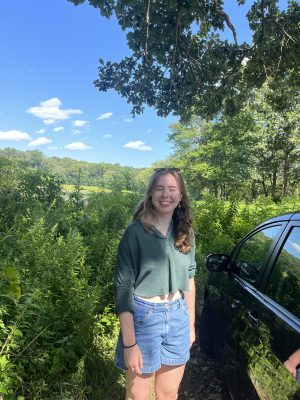 Hello Everyone! My name is Paige Booth and I am a junior at the University of Connecticut studying environmental science with a concentration in sustainable systems and a minor in ecology and evolutionary biology. I am lucky enough to serve as one of the Difference Maker Mentors for the 2023-2024 school year. On campus, I am also the treasurer of my acapella group Rubyfruit, a member of the service fraternity Alpha Phi Omega, and a CAHNR ambassador. In my free time, you will most likely find me at a concert (I've been to 12 this year)! I also enjoy going on nature walks, binge-watching new shows on Netflix, and petting any and every cat I can.
I have recently discovered my passion for mentoring youth. I was a first-year experience mentor last fall and I am also a husky ambassador. Sharing what I am passionate about with the next generation of learners has truly transformed me. These mentoring positions have pushed me out of my comfort zone and taught me things I couldn't have learned anywhere else. Whenever someone asks me what a DMM is and what it entails, I have the privilege of explaining it to them. I'm able to work closely with these incredibly driven high scho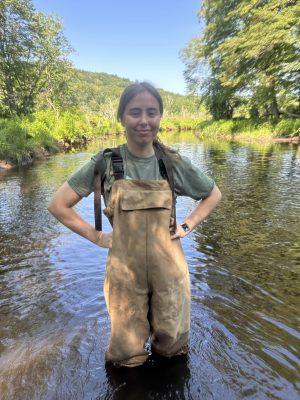 olers and help them develop a project that will improve the quality of their community. I am not sure exactly what I want to do after receiving my undergraduate degree, but I do know that I want to continue to work for organizations such as the NRCA and mentor youth. The future truly is up to them.
I'll end with my environmental motto: "Put the joy into saving the environment". That is exactly what the NRCA and these students are doing. I feel as though the current status of the environment brings fear and anger into the hearts of many. While these feelings are valid and needed, I also believe we need to enjoy what nature provides for us while helping it at the same time. During the field experience week it was lovely to see the students outside enjoying the many riches nature has to offer.
NRCA's Difference Maker Mentors (DMM) program are currently supported by a generous 5-year donation from the original private family foundation and from a grant (WAMS-2021-38503-34817) from the USDA Women & Minorities in STEM Fields.
---