We decided to catch up with alumni after they completed their NRCA programs to see what they are up to now. Today, we are catching up with Jamie Masthay (NRCA Class of 2016), who is a freshman studying Psychology at UConn.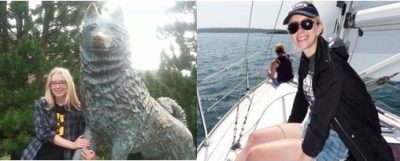 (Left) Jamie at UConn during the week-long CAP Field Experience in the summer of 2016. (Right) Jamie this past summer, on a boat in Maine.
Read more about Jamie's experience with the NRCA below:
Why were you interested in participating in the NRCA?
Jamie: I've loved nature my whole life; I enjoy being outside whenever I can, and I love learning about and helping the environment. NRCA seemed like a good way to get to know more about nature, and the idea of being able to conduct my own research project was exciting. I learned so much from NRCA in such a relatively short period of time, and it is definitely one of the more positive and memorable of my high school experiences.
What did you do for your conservation project and who was your community partner?
Jamie: For my conservation project, I studied bats and bat houses throughout Connecticut; my community partner was Dr. Laura Cisneros, the CAP coordinator at the time and UConn professor. We visited nearly 50 residences and parks with bat houses throughout the state and took down information about each individual house. At the few bat houses that were inhabited by bats, we returned at sunset to monitor the bats themselves as they exited the house to go hunt. I then compiled all of the data we'd gathered into an informative booklet on bats and bat houses in Connecticut, including illustrated instructions on how to construct and put up a proper bat house. It was a fascinating experience and one that felt very important to me, especially because the data I gathered was (and is still today) used to inform bat conservation efforts in Connecticut – something that is particularly important because bat populations have been drastically declining in the past few decades due to a disease called White-Nose Syndrome.
What was the most memorable part of the NRCA, and why?
Jamie: The most memorable part of my NRCA experience was my conservation project because it felt like I was making an actual impact on bat conservation in Connecticut. I am very passionate about conserving the environment, and doing such an in-depth project made me feel like I was making a difference and helping the environment in a way that I could never have done if not for the NRCA program.
Which aspect of your NRCA experience or project are you most proud of, and why?
Jamie: I'm most proud of the impact that my project has had on others. In August 2017, I presented my research project at Mystic Aquarium's Women in Science day. I showed my poster and explained my project to a variety of people, but one in particular stood out to me – a young girl, with her mother, who approached and asked all sorts of interested questions about how and why I had studied the bats. I was unfortunately unable to attend the event this past summer, but Dr. Cisneros went, and she emailed me after to tell me that the same girl had come back again, talking about how she had done a school science fair project on bats in Connecticut. It was incredible to know that I had inspired even one person in such an important way.
Why did you choose to study your major?
Jamie: I chose to study psychology because I am incredibly interested in how the brain works and how biological processes influence how we think and feel and perceive the world. I took AP psychology in my senior year of high school and fell in love with it, and I decided to pursue it as a college major. I'm hoping to one day go into research on neuropsychology to better understand the biological bases of mental disorders; I like the idea of being able to conduct research that might be able to help people someday. For now, though, I'm just happy to be able to take classes in a major that I really enjoy.
What advice would you give to a student considering applying to an NRCA program?
Jamie: I would definitely tell them to apply. I learned so much from NRCA – not just about the environment, but about conducting research, presenting my findings in a professional setting, working with experts in a scientific field, and so much more. Even though I didn't end up majoring in natural resources or environmental science, it was still an incredible experience that I enjoyed immensely. NRCA provides a look at a wide variety of careers related to natural resources and the environment, and I know that a lot of NRCA alumni find their passion for the environment after participating in the program. Whether you end up finding your future career or just end up learning more about nature, I would definitely recommend applying.
If you could describe your NRCA experience in 3 words, what would they be?
Jamie: Helping the environment.
Take a look at Jamie's independent community project, linked below: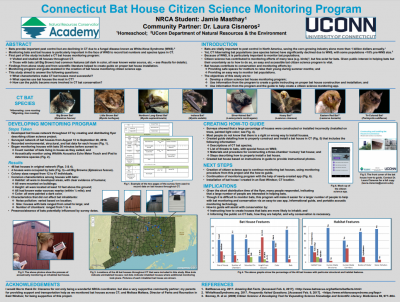 Thank you, Jamie, for contributing a blog! If you have participated in an NRCA program and would like to contribute a blog about your experience, email us at nrca@uconn.edu. 
---