Please note: Fall archery hunting season for deer opens on September 15th and continues through the end of December. We strongly encourage our NRCA participants conducting fall field work (and anyone else in the woods) to wear blaze orange to increase your visibility during hunting season.
Below are specific fall safety guidelines based on recommendations by CT DEEP: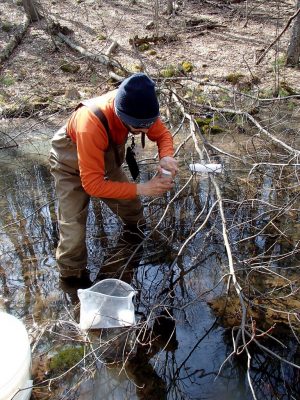 Do not conduct field work alone.
NRCA participants are encouraged to work in teams of two or more.
Keep your cell phone and water with you.
Working in the outdoors always involves a certain degree of risk; slips, trips and falls in particular are possible during the wetter months.  A phone and water bottle left in the car will not do you any good if you have a sprained ankle and are a ½ mile away. Make sure to dress in layers, keep your cell phone on your body and bring water into the field with you.
Wear weather appropriate clothing.
Particularly during the colder, wet months please make sure to dress in preparation for the elements.  Wearing non-cotton layers, with a wind and water resistant outer layer is advised.  If the weather forecast is unfavorable, consider rescheduling to another day.
Wear fluorescent orange when conducting field work.
Hunting is allowed in many areas of the state during the fall months.  Dress to insure you are highly visible to a hunter.  If fluorescent orange vests or clothing are not available, any other bright, neon color can be substituted to promote visibility of field teams.
Leave a field plan with someone.
Always notify someone before going out to conduct field work. Let them know where you plan to go, when you plan to leave and when you plan to return. Make arrangements to contact someone upon your return to confirm you returned home safely.
Check for ticks upon returning home.
Be sure to check for ticks as soon as possible upon returning home.  If any are found, remove immediately and contact your doctor for further medical advice.
---