Why were you interested in participating in the NRCA?
My brother participated in the NRCA experience before I did, every week he would get together with his friend and work on building a bat house. The project had given him a common goal to strive towards, he had become a scientist in my eyes. I look up to my brother and he knows that, so he encouraged me to look into the NRCA and voila!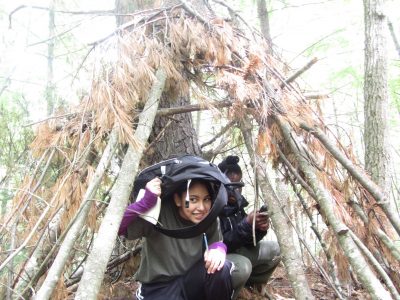 What did you do for your conservation project and who was your community partner?
My conservation project was in support of the EPA's national Soak up the Rain initiative. I investigated the water retention of green roof modules, from those numbers I made a model that would provide an estimate on how much money a 1000 ft² green roof would save the city of Bridgeport in wastewater management per year. I also studied the responses that soils would potentially have to hydrocarbon inputs from motor oil. My community partner was Aris W. Stalis, a landscape architect, at Aris Land Studio. My NRCA experience was possible due to a generous scholarship from The United Illuminating Company and materials donated by Prides Corner Farms.
What was the most memorable part of the NRCA, and why?
The most memorable part of the NRCA was working on my project. At least three times a week I would stay after school until about 6:00pm tending to my green house and doing water quality testing. Those water quality tests took a long time, some samples took 4 minutes to develop and I had 20 samples in total. Not to mention I had to build a green roof structure that had: 4 separate independent modules, all insulated with working drains. This project was busy work and I really enjoyed it. I felt all sciency.
Which aspect of your NRCA experience or project are you most proud of, and why?
My NRCA project involved many steps including engaging in wood-shop work, using colorimetry, using an electron microscope and managing a green house. I had assistance and training in a lot of these steps, meaning I had to be an effective communicator. I wasn't the most well-spoken individual and avoided asking for help but my NRCA project pushed me out of my comfort zone and has allowed me to successfully complete other projects, as I have learned to properly communicate with professionals and ask for their help.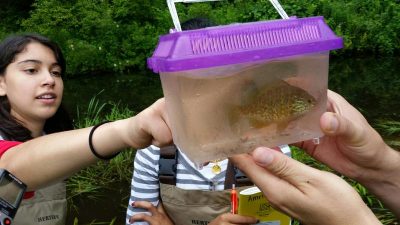 Why did you choose to study your major?
Initially I was a Mathematics major but am now looking to pursue a degree in Statistics. There are aspects of Mathematics that I am in love with such as manifolds and number sequences. But when I work with data I get a magical feeling. I love working with numbers and churning them out to see what results I can get. It's exciting especially when you get to work in groups with people who are asking questions, it's like they collect all the pieces and now you just have to make the picture. I'm hoping to develop different statistical models and methods to aid in statistically complex environmental issues. I can't wait to work with others!
 What advice would you give to a student considering applying to an NRCA program?
If you're thinking of applying to the NRCA program go take a walk in the forest, catch a frog, then go home and apply for the NRCA. But seriously, this program appeals to all sorts of folks, if you enjoy nature then you'll enjoy the program. Also stay hydrated.
If you could describe your NRCA experience in 3 words, what would they be?
Nature, Water, Friends
---