It's mid-December and we're already thinking ahead to March conference season. We try to help our NRCA participants that choose to present their conservation projects to be as prepared as possible. CAP students traditionally create posters that are presented during a special session of the Connecticut Conference on Natural Resources. CTP folks can present their projects in a variety of formats (video, StoryMap, speaking in front of an audience, poster, etc.) at either the CCNR or Connecticut Land Conservation Conference. January and February are a busy time for NRCA poster editing, which got me thinking…
The term "better poster" was used during one of our recent CTP team meetings and today I decided to get up-to-speed on what this idea is all about. Mike Morrison, a doctoral student in psychology at Michigan State University, is behind the campaign to "fix" academic posters. In short, his proposed new poster design "looks clean, almost empty. The main research finding is written right in the middle, in plain language and big letters. There's a code underneath you can scan with a cellphone to get a link to the details of the study."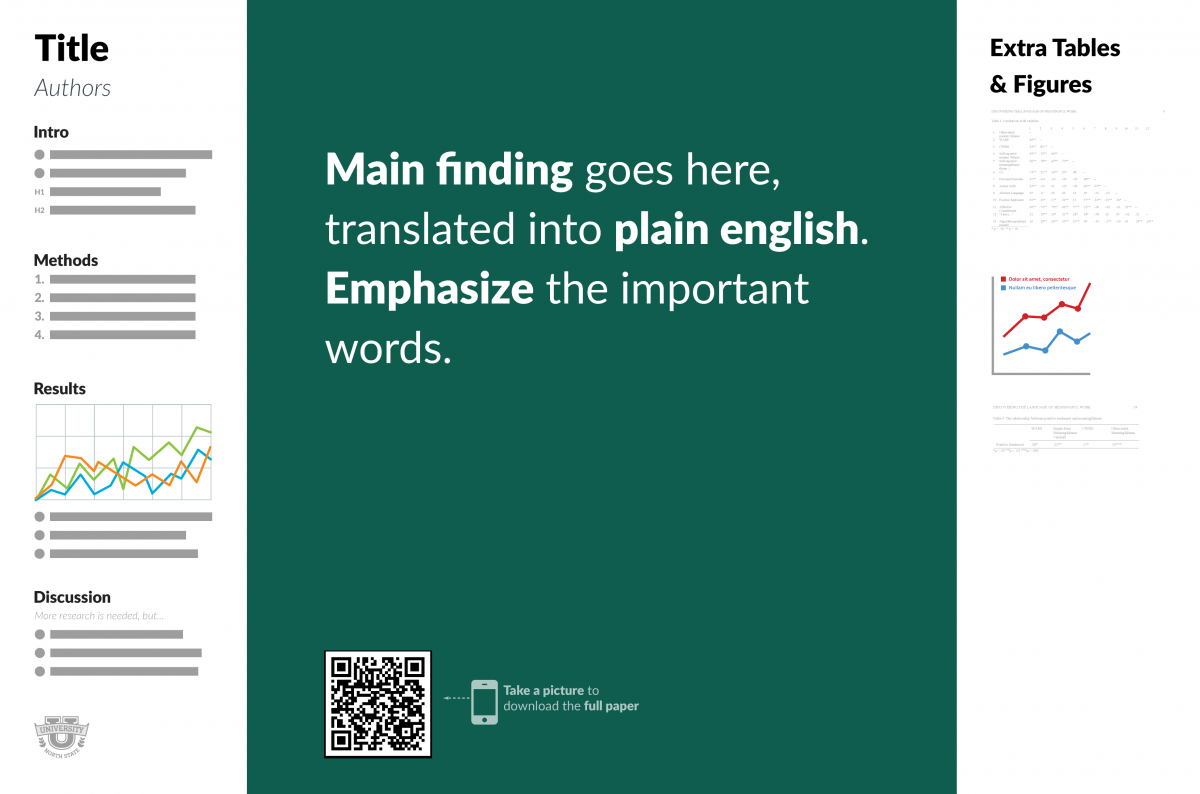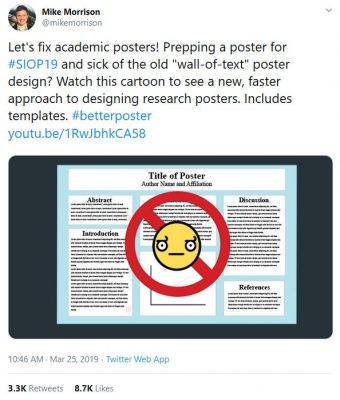 Since March, Mike's Better Poster idea has really taken off. I mean, look at the number of likes and retweets it got! In fact, at the time this blog post was written, three people had shared photos of their #betterposter on Twitter in the last FOUR HOURS.
I should point out, though, that there has been at least one critique written about Mike's Better Poster.
The American Psychological Association liked Mike's idea so much that they created their own APA mod template of the Better Poster and encouraged presenters to use it, or a similar format, at their 2019 Conference. According to them:
The new format fosters conversation
It's easy to identify critical takeaways
It's visually appealing and eye-catching which makes people more likely to stop and read more
It helps posters stand out from the pack
It encourages presenters to be creative, think about how to translate their findings, and focus on what is important.
Templates for Mike's Better Scientific Poster are available in multiple formats (one was even updated this morning!) on OSF.io – a free, open platform to support research and enable collaboration.
Perhaps some of our NRCA participants will choose to create posters using Mike's design or something similar. Look for them at the March conferences!
And speaking of the conferences, are you curious about the Connecticut Conference on Natural Resources? You can take a tour of the 2019 CCNR held on the UConn Storrs campus!
---