Hi all, my name is AJ Barthel and I am one of the NRCA Difference Makers for Spring 2020.
As a Difference Maker, I will be contributing to the NRCA blog, working with program data and assisting current Conservation Ambassador Program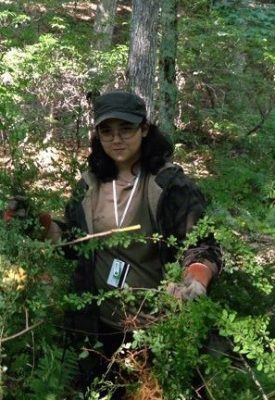 (CAP) and Conservation Training Partnerships (CTP) participants with their work during the semester. I also plan to create video content that can be used to motivate current students as they progress through the program. We understand how hard it can be to balance school, clubs, friends and family along with one's NRCA project. That balance was something I struggled with in high school and I am looking forward to helping anyone who might be going through a similar situation. Another goal during this semester will be to work on recruitment materials to bring more students into the program in upcoming years. I would love to encourage more people to participate. CAP was an important part of my high school experience and I think it is a valuable resource for anyone interested in nature and learning more about it.
My exposure to farms and farming lifestyle led me to develop an interest in animals. This motivated me to apply for the Future Farmers of America (FFA) in my high school. The FFA is a national program that teaches students about natural resources, mechanics, and animal /plant science. My love for animals quickly turned to love for the natural world and a curiosity for how everything works together. The FFA was where I heard about CAP. I couldn't help but be involved in a program that allowed you to get hands-on experience on a variety of different topics pertaining to natural resources. It felt like a once in a lifetime opportunity to be apart of mapping projects, wading in a stream, or using animal tracking equipment. I participated in CAP in 2014-2015, and after my time there, I knew that I wanted to move forward with what I had learned. Which brings me to my plan of study here at UConn. I am currently a senior Environmental Studies major with a minor in Urban and Community Studies which essentially means that I am interested in the relation of people and the environment, particularly in cities. Growing up in Middletown, CT; a town that has both a lively downtown city center and several long-established plots of farmland not too far from each other. I was fortunate enough to live between the two.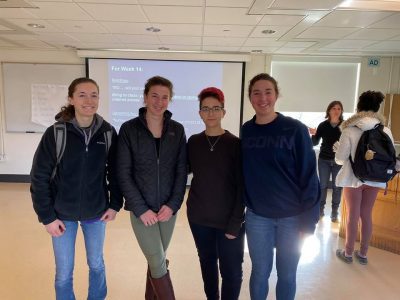 It took some time for my interests to settle where they are now but I certainly gained an appreciation for human interactions in nature from my experience in CAP. The program also taught me a lot about some of the issues going on locally and what we, as students, can do to help. Because we can all do something but educating yourself is the first step.
(3rd from left: AJ)
---