The coronavirus and COVID-19 pandemic has thrown all of us in the NRCA office for a loop, and with each day's breaking information and precautions it can be a little (or a lot) overwhelming. We just found out yesterday that the university will finish out the remainder of this semester entirely online, and all employees (who can) should work from home until further notice.
I am, therefore, excited to spend some time thinking ahead about spring, positive changes, the chance to grow and new opportunities. I'm also happy to use this platform to plug a free statewide UConn program that is perfect for anyone who gardens or even simply enjoys spending time outdoors among nature.
The Conservation Training Partnerships (CTP) partners teens and adult community volunteers, and supports their conservation efforts by providing training during a two-day field workshop and guidance as they conduct a local conservation project of their choosing.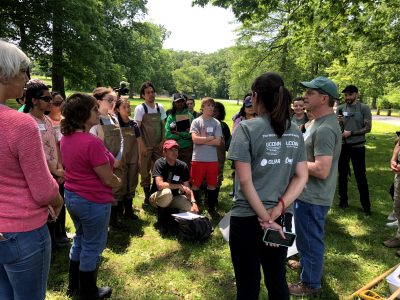 Teams of teen and adult participants are paired prior to the workshop. During the workshop, each team learns how they can apply innovative, user-friendly mapping and web technology to address local conservation issues through hands-on fieldwork. We currently have workshops scheduled in Stamford, Waterbury and Eastford this June.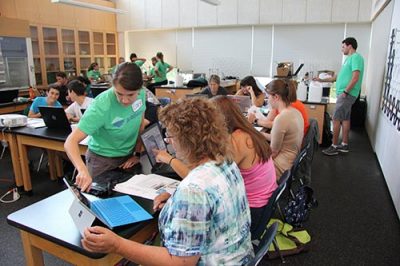 After the workshop, the team carries out a conservation project that addresses a local environmental issue in their hometown using their new toolset. The projects are developed by the team at the workshop and CTP instructors provide support to help the team along the way.
Examples of past projects include planting pollinator gardens, cleaning up local parks, removing invasive plants, and installing rain gardens. Below I highlight a few specific projects.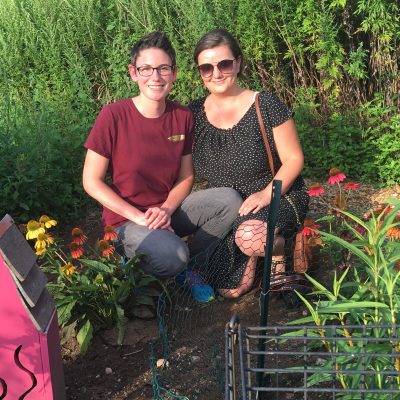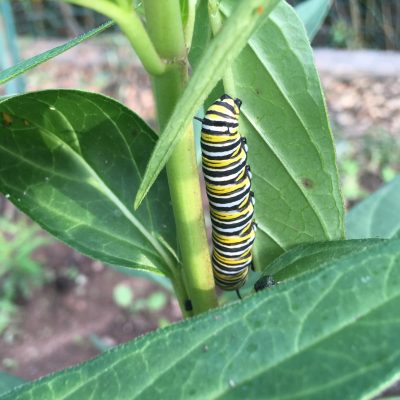 This Glastonbury CTP team chose to install a monarch waystation at Wind Hill Community Farm. They planted native monarch-friendly plants in a small patch of earth on the farm property, but the plants got eaten by a pesky rabbit. After a second planting that included protective fencing, they were ecstatic to find a monarch caterpillar happily munching on a milkweed. I consider that a huge success!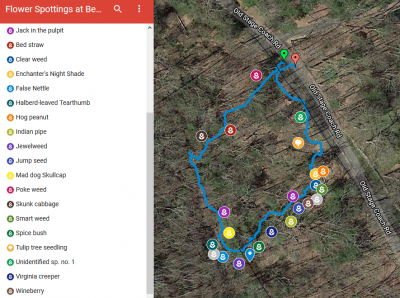 The image to the left is from a CTP team that created an interactive map of Benjamin Wildflower Preserve, a property of Aspetuck Land Trust in Weston. This map can be accessed by anyone and used to help identify a number of different wildflower species along the trail. Feel free to check out their project poster and online map.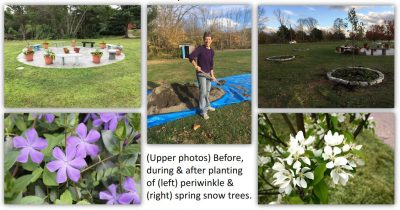 A multi-part project in Hebron involved both digitizing a nature trail and native planting for pollinators at the RHAM High School Memorial Garden. Their goal was to engage the local community and get more people into nature by: (1) using technology to excite and make the public aware of a school trail, and (2) planting a native garden in a school park to attract both local community members and pollinators.
CTP teams typically showcase their projects in the form of a poster or video at one of two events in March, but unfortunately, these events were recently postponed due to concerns about COVID-19.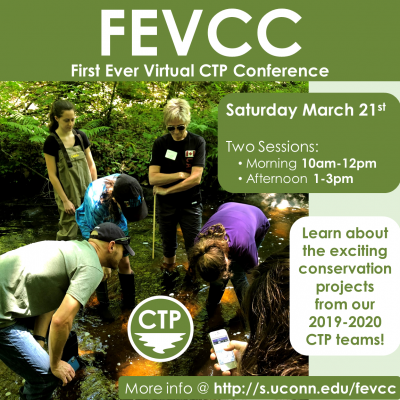 The good news is that we've decided to host a virtual conference to highlight their hard work and you're invited to attend!
Come learn first-hand about the program and how you can help make a difference in your community. More information can be found at http://s.uconn.edu/fevcc.
---