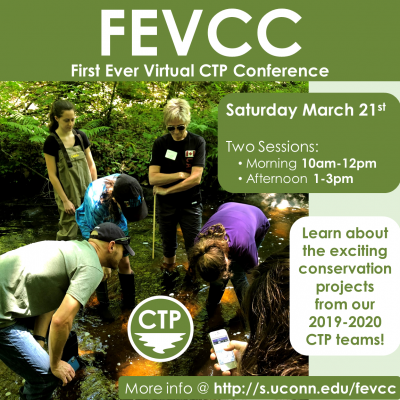 The First Ever Virtual CTP Conference (FEVCC) took place online Saturday, March 21st, and was a huge success! A total of 18 participants representing 13 CTP teams (six teams in the morning and seven in the afternoon session) presented their projects to an audience of over 50 people, including folks from CT DEEP, Housatonic Valley Association, and Kent Land Trust.
We held the virtual conference in lieu of the two conferences where CTP teams had planned to present earlier this month: the Connecticut Conference on Natural Resources / Connecticut Outdoor Environmental Education Association joint conference and the Connecticut Land Conservation Conference, both of which were postponed due to COVID-19.
We were so glad to be able to create this opportunity for our participants to showcase all of their hard work! Projects topics ranged from bats to beavers to the importance of conserving water to mapping a former zoo in a Hartford park few people have ever heard of.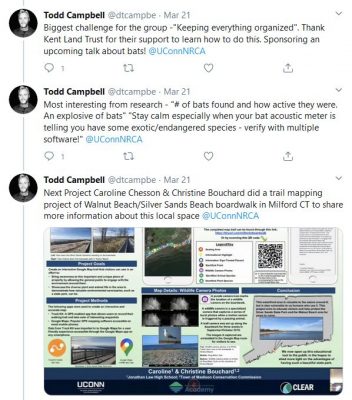 Todd Campbell, one of our colleagues from the Neag School of Education, live tweeted the afternoon session, sharing images of the teams' project posters and StoryMaps, describing the projects, and even including quotes from the presenters.
Audience members asked thoughtful and engaging questions, such as What skills did you learn?, Is there software that people can load onto their home computers or tablets that will allow us to monitor bat activity from our own homes around the state?, What was the most challenging aspect of your project? and Any evidence of beaver predation by Bobcat or Coyote?
Below is the list of the exciting and diverse conservation projects showcased during the virtual conference. Each includes a link to the project poster and recording of the CTP team presentation. Additional links provide access to ArcGIS StoryMaps, online maps, and other resources. You can also check out the full presentation YouTube playlist.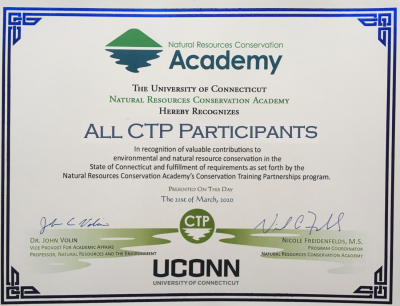 Participants were provided feedback and comments on their projects, for example: Would love to use this project/poster to teach my middle school students about invasive plants locally, A big take away is that species of special concern in that part of the state, which is exciting!, The map looks great and very professional!, This project is amazing and the amount of things she did to catalogue land use is inspiring!, Very cool that this helped your town with their Sustainable CT efforts!, I love the cross-disciplinary linkings – no matter your interest and/or talent, something to inspire., Great job getting the local businesses involved!, Impressive study and your results are certainly consistent with what we would expect, even though both watersheds are fairly low in impervious cover., and Great Project.  I may go visit this weekend.  My son would love to climb those rocks!.
Thank you so much to everyone who made this virtual conference possible!
Additional material from CTP participants can be seen on the Community Projects and Participant Products pages of our website.
---