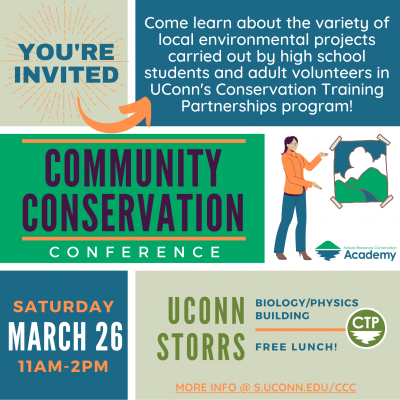 The NRCA's Conservation Training Partnerships (CTP) program recently wrapped up it's fifth and final year by showcasing the local environmental projects completed by teen and adult teams across Connecticut. On Saturday, March 26th, we celebrated their accomplishments at the Community Conservation Conference, which took place on the UConn Storrs campus. The conference was attended by approximately 50 people, including CTP participants, their guests, and NRCA faculty and affiliates.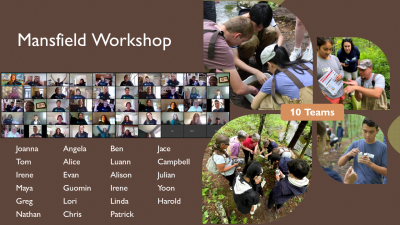 The 2021-2022 CTP program began with two-day hybrid workshops (one day in person and one day online) in Mansfield and Hartford during the summer of 2021. Twenty-two intergenerational teams attended our two workshops – ten in Mansfield and twelve in Hartford.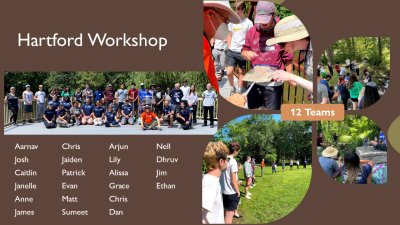 This CTP cohort comprised 28 students from 22 high schools and 17 adult volunteers from 7 conservation organizations who, after the workshops, collaborated in teams to carry out 18 diverse local conservation projects, 13 of which were presented at the conference.
Project topics included stream water quality, wildlife surveys, sustainability, outreach and education, trail mapping, solar energy, and invasive plants.
Teen and adult CTP participants shared their projects as printed posters and digital StoryMaps:
Congratulations to these new Connecticut Conservation Ambassadors!
It is our hope that their experiences in the CTP program helps drive our participants toward future environmental pursuits.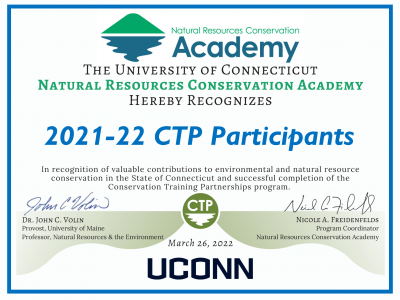 ---