Continuing the saga of DMM Passion Projects, I chose to put together a user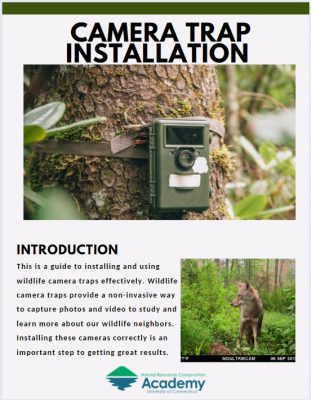 guide document for installing wildlife camera traps.
My interest for this project began when one of my teams in the Conservation Training Partnership program chose to capture pictures of the wildlife species at Roaring Brook Falls park in Cheshire. The process of learning about camera traps and how they worked piqued my interest in it. There was the added bonus of there not already being an installation guide for the Natural Resources Conservation Academy (NRCA). That, coupled with my interest to tell almost everyone I knew about this technology, is what pushed me to pick this up as a side project.
My goal for creating this user guide is to provide future NRCA participants an easy-to-read resource on installing these cameras, to hopefully record incredible pictures and videos of local wildlife.
With inspiration from existing wildlife camera traps installation user guides and a lot of editing, the final user guide for installing wildlife camera traps is now ready and can be accessed here.
---